Dental health is a very important part of your pet's overall health, and dental problems can cause, or be caused by, other health problems.  Plaque and tartar tend to build up more quickly in smaller breed dogs and they are also prone to tooth decay and gum disease.   Routine dental care will help with all of these issues, which in turn will give your pet a more healthy life.
Bella, a very petite Chihuahua, presented for a dental procedure.  As you can see in her before photo she had severe calculus built up on some of her teeth, while her other teeth only had a moderate build up.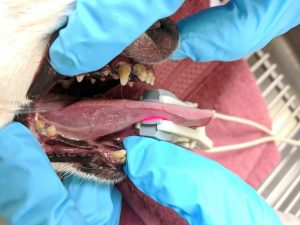 Dr. Cretacci and her technician, Rhonda, performed her dental procedure where they used an ultrasonic and hand scaling tool to remove the dental plaque and tartar.  Once the teeth were clean, it was determined that four of her teeth were mobile as a result of periodontal disease.  These four teeth needed to be removed to prevent further periodontal disease and infection.   Bella's teeth were then polished and a fluoride treatment was applied.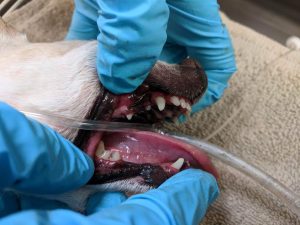 Now, as you can see, Bella's teeth look great!  Bella was sent home with Oravet chews to continue her dental care at home.  These Oravet chews create a barrier to help protect against plaque, calculus, and bad breath.  Sweet little Bella happily went home at the end of the day with a fresh and clean mouth thanks to her dental procedure.